Mariana Castillo Deball was born in Mexico and currently resides between Berlin and Mexico City. Her chimerical, changing practice incorporates various mediums such as sculpture, film, photography, drawing, ceramics, print making and book making. Her installations and research-based projects often include objects that take on the role of theater or opera characters that have been removed from their times and circumstances in order to convey meaning through new contexts. In her practice she acknowledges and explores how stories are performed and retained in museums, while making visible practitioners and makers whose histories have long been obscured. Her work also highlights collaborations and the knowledge exchanges that occur by experimenting with its modes of (re)production. 
After completing a Master of Fine Art from the National Autonomous University of Mexico in Mexico City, Castillo Deball undertook the postgraduate program of the Jan van Eyck Academie, Maastricht in 2002–03. Castillo Deball's recent solo presentations include the Modern Art Oxford, England (2020); the Monash University Museum of Art, Melbourne (2019); the Witte de With Center for Contemporary Art, Rotterdam (2019); the New Museum, New York (2019); the Reva and David Logan Center for the Arts, Chicago (2018); and the Museo Amparo, Puebla, Mexico (2018). Group exhibitions include the Sharjah Biennial 13 (2017); the 32nd Bienal de São Paulo (2016), the Aichi Triennale (2016); the Liverpool Biennial (2016); the 8th Berlin Biennale (2014) and dOCUMENTA (13), Kassel (2012). In 2013, she was awarded the Preis der Nationalgalerie of the Staatliche Museen zu Berlin, resulting in her major exhibition Parergon at Hamburger Bahnhof – Museum für Gegenwart – Berlin in 2014. Alongside her artistic practice, Castillo Deball has been a professor at the Academy of Fine Arts Münster, Germany since 2015.
By the position of your heart IT WILL BE KNOWN WHERE THE MIDDLE PLACE IS (2021)
8 ceramic vessels & black cotton rope
approx. 35 x 35 x 35 cm (per vessel) & 1000 cm (rope)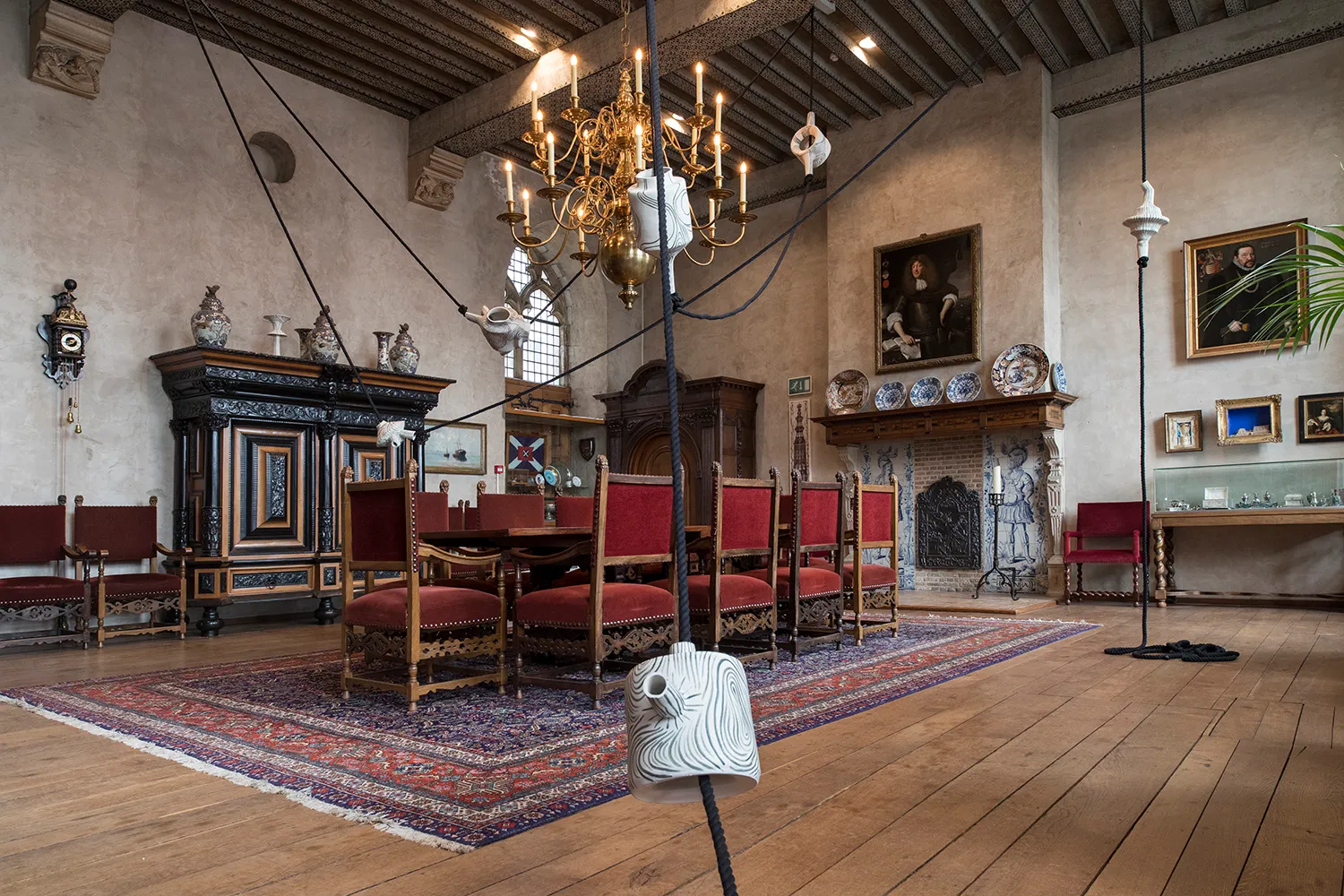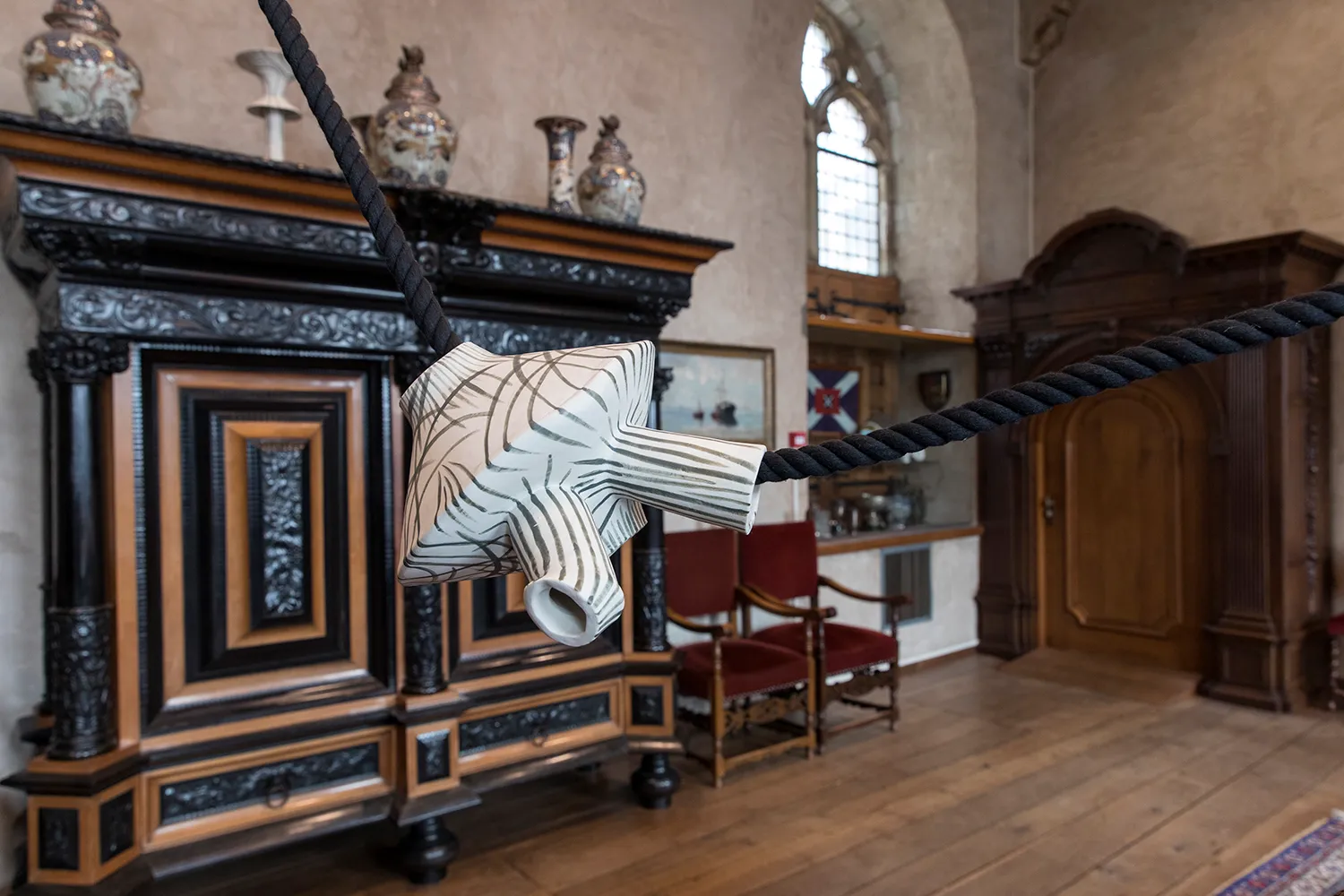 De keramische stukken in de hangende installatie By the position of your heart IT WILL BE KNOWN WHERE THE MIDDLE PLACE IS van Castillo Deball doen denken aan wat archeologen 'kill holes' noemen: eeuwenoud aardewerk met perforaties aan de onderzijde. Deze bewuste sabotage van de oorspronkelijke functie van aardewerk als bewaarmiddel blijkt een veelvoorkomende praktijk bij traditionele begrafenisrituelen in Zuidwestelijk Amerika. Deball manipuleerde deze vormen nog verder en produceerde vijf nieuwe, zelfverzonnen objecten, verbonden met een touw. Ook implementeerde zij hierin haar sculpturale onderzoek uit 1998 naar de 'Klein bottle', een wiskundig object zonder binnen- of buitenkant. Deball combineert een formalistische verkenning van keramiek met haar uitgebreide onderzoek op het gebied van wetenschap, archeologie en beeldende kunst, en specifiek over de vraag hoe deze disciplines de wereld beschrijven.
By the position of your heart IT WILL BE KNOWN WHERE THE MIDDLE PLACE IS werd als eerste tentoongesteld in de 16e-eeuwse stadhuis van Middelburg, een tijdelijke extra tentoonstellingsruimte van de Vleeshal (8 dec 2021 – 27 feb 2022), als onderdeel van het Special Project 2020/21.